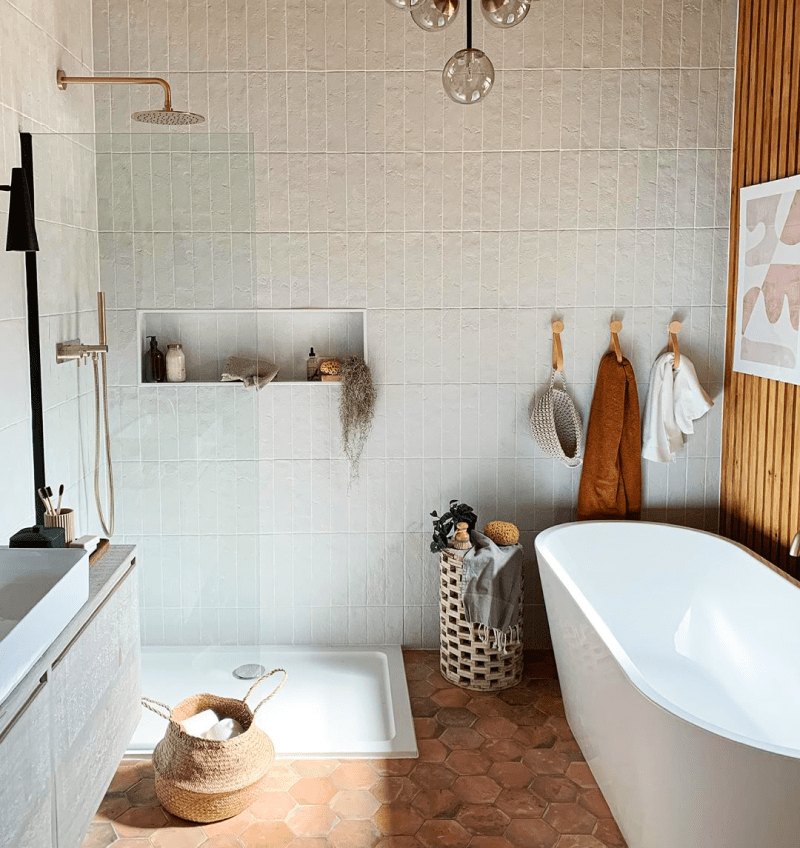 indulge in the natural vibes and functional minimalism of
Scandi Bathroom Luxury
---
SCANDINAVIAN - OR 'SCANDI' FOR SHORT - REFERS TO THE MINIMALISTIC INTERIOR BLEND OF TEXTURES, SOFT HUES, AND WARMth OF NORDIC HOMES.
with an EMPHASIS ON CLEAN LINES, SIMPLE FURNISHINGs, AND COSY modern LIVING, YOUR FOCUS SHOULD BE ON FUNCTIONALITY AND STYLE.
create a soothing calmness in your bathroom with the clutter-free simplicity of nordic-style living.
SIMPLE, BOLD, AND MODERN BATHROOM FURNITURE SHOULD BE FEATURED IN YOUR SCANDI INSPIRED BATHROOM.
---
Opt for wall hung vanity units to hide away the bathroom clutter and maintain the minimalistic feel.
Use bold finished fixtures for an interior that pops. The simple aesthetic of a Scandi bathroom means you have the freedom to style your space anyway you want, with our beautiful collection of Scandi must haves.
From exquisitely styled brassware to Nordic inspired freestanding baths, our Scandi-style bathroom range is filled with simple designs and outstanding finishes, each designed to help you make your "hygge" bathroom dreams a reality.
EMBRACE THE MINIMALIST DESIGN, BRING SOME WARMTH INTO YOUR BATHROOM, AND LEAN INTO SCANDI LIVING.
Although white is the dominant 'colour' most people associate with Scandi style bathrooms, adding a touch of dark to the space can help to add an element of drama.
Pairing matt black fixtures and brassware with a pure white backdrop is a simple way to make a space look bigger.
The Milano Nero collection paired with the clean and simple geometric shapes of an Elswick washstand is a great way to create a modern aesthetic with a minimalist elegance.
Black brassware can make a space feel clean and uncluttered, and the matt finish of the Nero collection adds an element of contemporary style to the space.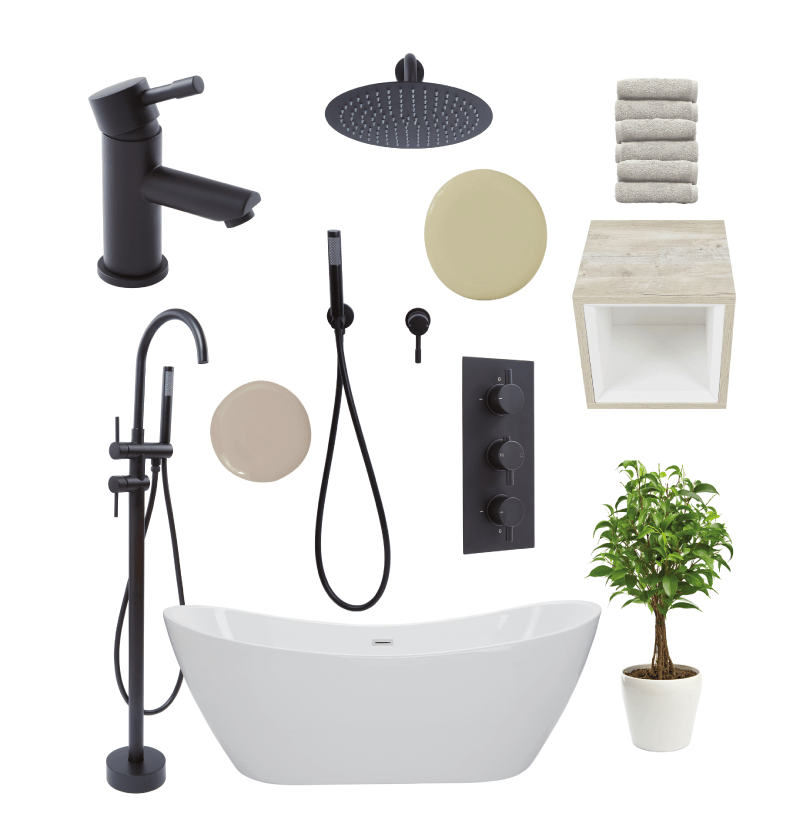 Natural colours and materials are the key components of Scandinavian design.
Simple ceramics combined with the beauty of natural wooden features help to create a homely feel with an added spa-like ambience.
To add an extra touch of glamour to this look, select from a range of brushed gold brassware and accessories to enhance the natural feel of the space.
Pale woods are perfect for a clean and simple look but selecting darker tones like walnut can bring additional warmth to the space too.
Choose natural fabrics like cotton and linen for any decorative elements and achieving that Scandi look is made even easier.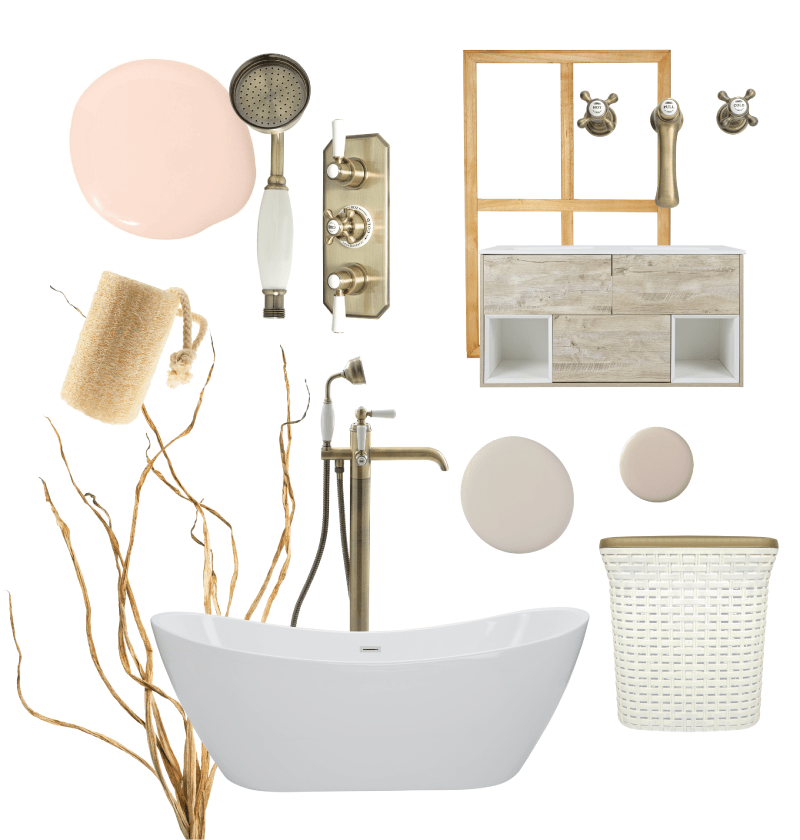 ---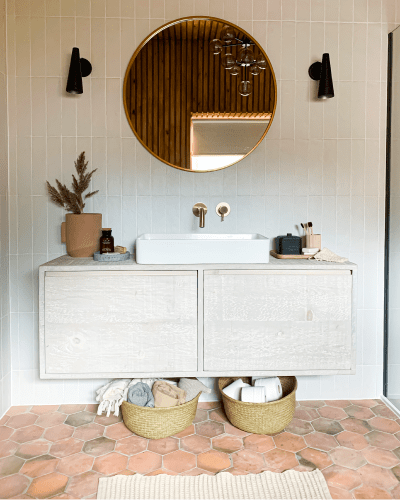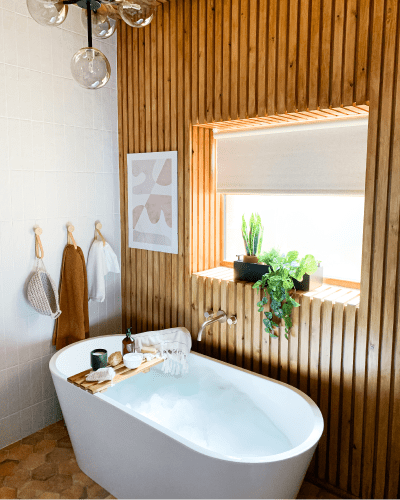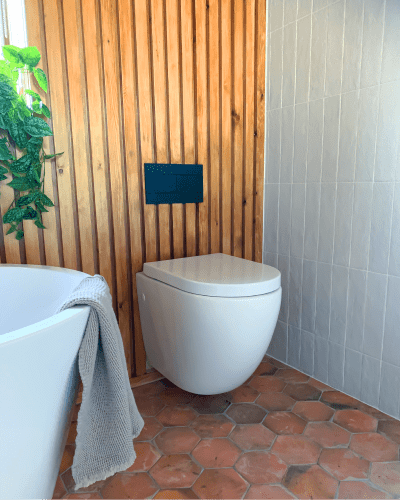 @hallie_and_harrisons_house
Interior enthusiast, @hallie_and_harrisons_house created her own Scandi sanctuary with our help. This warm and welcoming bathroom suite features natural flourishes, creating a family-friendly space filled with style and practicality.
---
"This was the only room we didn't renovate back when we first moved in so it's amazing to finally have such a nice space, it feels like a little sanctuary. Thanks so much Big Bathroom Shop for making it all come together!"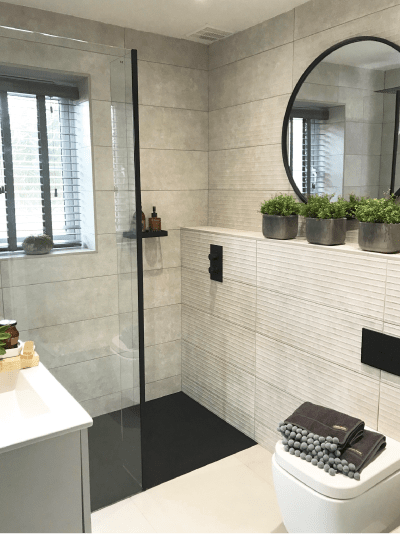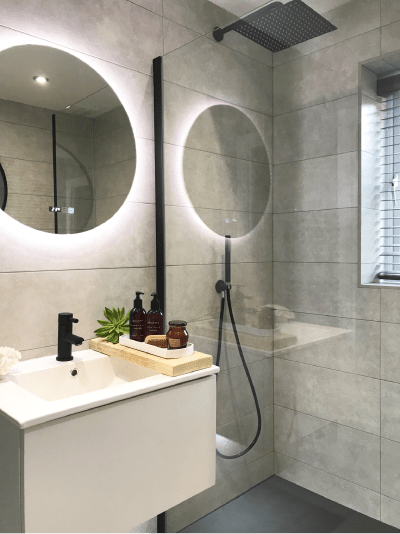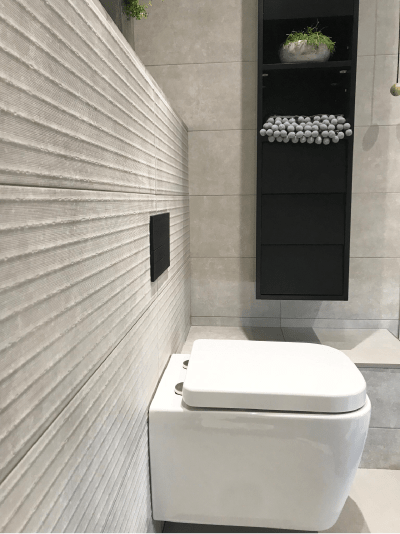 With the help of Big Bathroom Shop, @Our_Home_Interior_3 styled their scandi bathroom oasis, dark! Matt black brassware against natural stone tiling, gives this shower space a warm and inviting spa aesthetic that we simply adore.
---
"I love modern minimalistic surroundings with clean lines, for me it was important to achieve these things while still being able to create a relaxing functional space. I feel clutter free zones provide calming effects and knew instantly this was the look I wanted to go for."